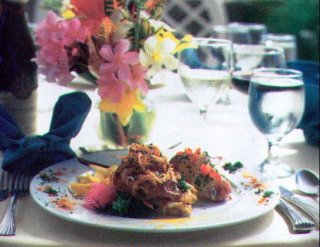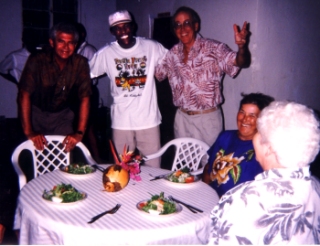 What is Cafe Roam?
Whether you choose a romantic dinner for two by the sea, formal candlelit dining in your condo, or a casual gathering with friends, Cafe Roam's personal service makes your occasion special.

You choose the location and your level of involvement. For example, let Bucky come to your home or condo and handle all the arrangements, including the floral variety. All you have to do is relax and enjoy an excellent meal served by Bucky and his staff.

Want to be more involved? Bucky will sit down with you to plan the menu and make all the arrangements.

If you are a Visitor to the island and want to see how the locals shop, Bucky will take you to the local open-air market. You can chat with local venders and select homegrown fruits, vegetables, and herbs, including produce from the hydroponic garden on Nevis. Bucky will help you negotiate a good price!
As you can see, Cafe Roam is flexible and fun and offers a unique dining experience that is exclusively yours. And best of all, no matter what type of celebration you choose, one thing is always guaranteed: Bucky will make sure your experience gives you...
** Memories for a Lifetime **